Artman's Director of Community Life Brings Joy and Happiness to Residents
July 19, 2023
Artman's Director of Community Life, Madeleine Byrne, says she stumbled upon her dream job by chance, and she is incredibly thankful that she did. Originally from upstate New York, Madeleine earned her Bachelor's of Science degree from State University of New York (SUNY) College at Cortland. "I originally did a lot of field work with people with developmental disabilities. That's the direction I thought I was going to go in with my career," she explains.
Instead, Madeleine found Artman.
"I very quickly fell in love with the community and the people," she says. "I would talk to friends from my hometown and tell them how much I love it and they thought I was so lucky to come across my dream job without even knowing this was what I wanted to do," she reflects.
Madeleine has been working at Artman for eight years. Her love for residents and the community continues to grow. Beginning her role as Community Life Leader for one of Artman's households, Madeleine progressed to become Director of Community Life after just three years. "Every day is different and I really enjoy that variety," she says.
As Director of Community Life, Madeleine wears many hats. A large part of her role is organizing special events and activities that engage residents and uplift their overall well-being. While doing so, she ensures that every day is one full of joy for the people who call Artman home.
My goal is to make each day as fun as possible for our residents. I want to make every day the BEST day. I like to surprise them with activities and events that they're not expecting. I want to make their lives at Artman fun and joyful.

Madeleine Byrne, Director of Community Life at Artman
Madeleine and Artman's Community Life team certainly bring their creativity to the table as they plan fun, special events that bring smiles to residents' faces. Some of their most recent favorite celebrations include the INDY 500 race where residents designed their very own miniature INDY 500 (wooden) cars.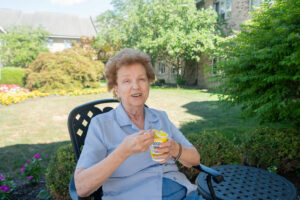 "Residents could add things structurally to the design of their car to weigh them down and make them faster, and decorating the cars was a lot of fun too," Madeleine describes. "We had a big race day and our team members dressed up as the pit crew. For many of our residents it was reminiscent of their past with derby cars and boy scouts," she adds.
Madeleine and the Community Life team planned a 1950s ice cream parlor. With reminiscent décor and homemade waffle cone bowl sundaes and milkshakes, residents felt like they were transported back in time with delicious treats and great friends.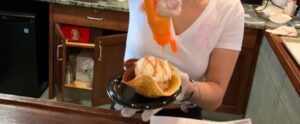 "I work with a very talented team who bring their unique skillsets to the table. If anyone has an idea for an activity or event, we support it, and work together to determine how to make that vision happen for our residents," Madeleine notes.
Team members' dedication is perfectly demonstrated as residents engage and live fulfilling lifestyles in the company of friends.
At some of our most recent events, residents have given our team a standing ovation. It feels rewarding to know that our hard work is bringing residents happiness and that they are truly enjoying their lives at Artman.

Madeleine Byrne, Director of Community Life at Artman
Feeling great reward in seeing residents' happiness, Madeleine and the Community Life team enjoy listening to residents' feedback as they personalize events and activities to their unique interests.
"Part of what I enjoy most about my job is listening to our residents and hearing what they have to say. Being able to take that feedback and make something creative out of it whether it's an event or activity, that's enjoyable for me," Madeleine reflects.
Community Life at Artman brings purpose and meaning to residents' lives. Madeleine credits Artman's the outstanding teamwork that makes it possible.
"What makes Artman stand out from other communities is our dedicated team. We have the ability to come together and do what's best for our residents. There's a saying, 'It's not what we do; it's who we are,' and all of our team members embody that," Madeleine affirms. "We're very motivated and we do our best every single day to make every resident happy."