Nina W. Brings Nearly 20 Years of Experience to Caregiving Excellence to Artman Senior Living
January 25, 2023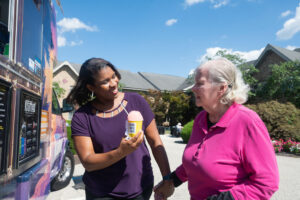 Nina Williams is the Personal Care Administrator at Artman Senior Living in Ambler, PA, providing Personal Care, Skilled Nursing, Short-Term Rehabilitation, and Respite Care.
She is well known at Artman her compassionate, loving care of the residents she serves and for also performing in community activities such as the Annual Artman Holiday Pageant as The Angel Gabriel.
Grateful to Work in a Compassionate and Caring Community
"When I was younger, I was very interested in Math and numbers, so my family initially thought I would have a career in that field. But, when I started working at Artman nearly twenty years ago as a Certified Nursing Aide (CNA), I realized I wanted to follow a path where I could make a difference in others' lives. I worked my way up then to being a full-time Medical Technician while I attended Bucks County Community College, where I earned my Licensed Practical Nursing (LPN) Certificate. Then, later, in 2008, I became a Personal Care Unit Manager at Artman, where I worked in that position until a year and a half ago, when I moved into my current role as Personal Care Administrator at Artman Senior Living. I love that I can help residents make the most of every day, and I am grateful to work in a community that holds the values of compassion and caring," explains Nina.
Engaging with Residents & Their Families
As a Personal Care Administrator, Nina helps lead care plans with residents and their families. She is responsible for leading the Personal Care team, and she supports the CNAs in their daily duties and responsibilities. She says, "I specifically help Personal Care residents with aspects of daily life that can range from assisting them with telemedicine appointments with their doctors, to being the eyes and ears for residents' family members.
She adds, "My favorite aspect about working here is supporting the process that new residents go through as they transition to Artman as their new home and watching them acclimate to being comfortable living here. I love getting to know who they are now, and learning about who they were in their earlier lives; it's so interesting to learn about their families, their careers, where they went to school and the activities they have enjoyed pursuing all of their lives."
Making a Positive and Meaningful Impact
Nina elaborates on how she enjoys getting to know the residents and their families personally. "I know that I impact their lives positively by finding out what makes their days meaningful, and I enjoy spending time educating others about person-centered care, to build those relationships. I try to impart to younger team members entering the profession that the more they know about a resident, the more they will enjoy the relationship and they'll find compassion in the work that they do."
When asked about what advice she has for younger CNAs she says, "I tell them to put their heart into working with each person. This is not a job, this is caring for a human life, and impacting the quality of day-to-day function of that person's life. Every day brings new light to the work you are involved in if you make the person front and center of your focus. You are not performing tasks in your day; you are helping an individual."
Click here to discover what makes the Artman community special!