Samrana M., Licensed Practical Nurse (LPN) Supervisor, Expresses Passion for Working with Caring Team Members at Artman Senior Living Community for Five Years
March 10, 2023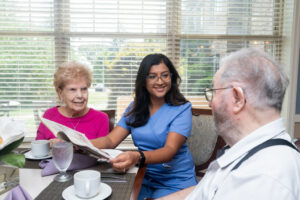 Samrana M. has been an LPN Supervisor, or Charge Nurse, at Artman Senior Living community in Ambler, PA since December 2017. In this role, she has supervisory duties that reflect her significant clinical nursing experience alongside her leadership skills. Her main responsibility is to ensure that the nurses whom she supports follow proper rules and procedures to deliver the appropriate treatment and care to Artman residents.
A Heart for Caring for Others
Samrana, or 'Sam', as she is known, says, "I realized I wanted to enter a caring profession when I was still a teenager. I knew then that I had the kind of heart that enjoys taking care of others, because I empathize with what they are going through, and I want to help them by supporting them in whatever way I can."
While working as an Aide in a hospital for sixteen years following high school, Sam pursued higher education and earned her LPN Certification. "I discovered the perfect professional home when I found Artman, since the team here are loving, compassionate and attentive to the residents' needs, and they share a passion for serving others."
What Samrana's Role Means to Her
When asked more about her role she explains, "Being a Nurse Supervisor demands being able to multitask, as there are many activities to coordinate regarding a resident's health and well-being, such as monitoring care, and communicating any changes in conditions with the team and with residents' family members."
She continues, "At the same time, I utilize the team members' extensive skills and talents, in order to properly delegate responsibilities where needed.
"Another of the many aspects I particularly enjoy about working at Artman, beyond being part of a committed and passionate professional team, is contributing to the daily well-being of residents. I enjoy learning about their lives, before they moved to Artman. I am constantly aware that I am not just doing tasks related to my job; I am responsible for a team who are taking care of the diverse resident needs and goals," she asserts.
Learn what makes the Artman community special!